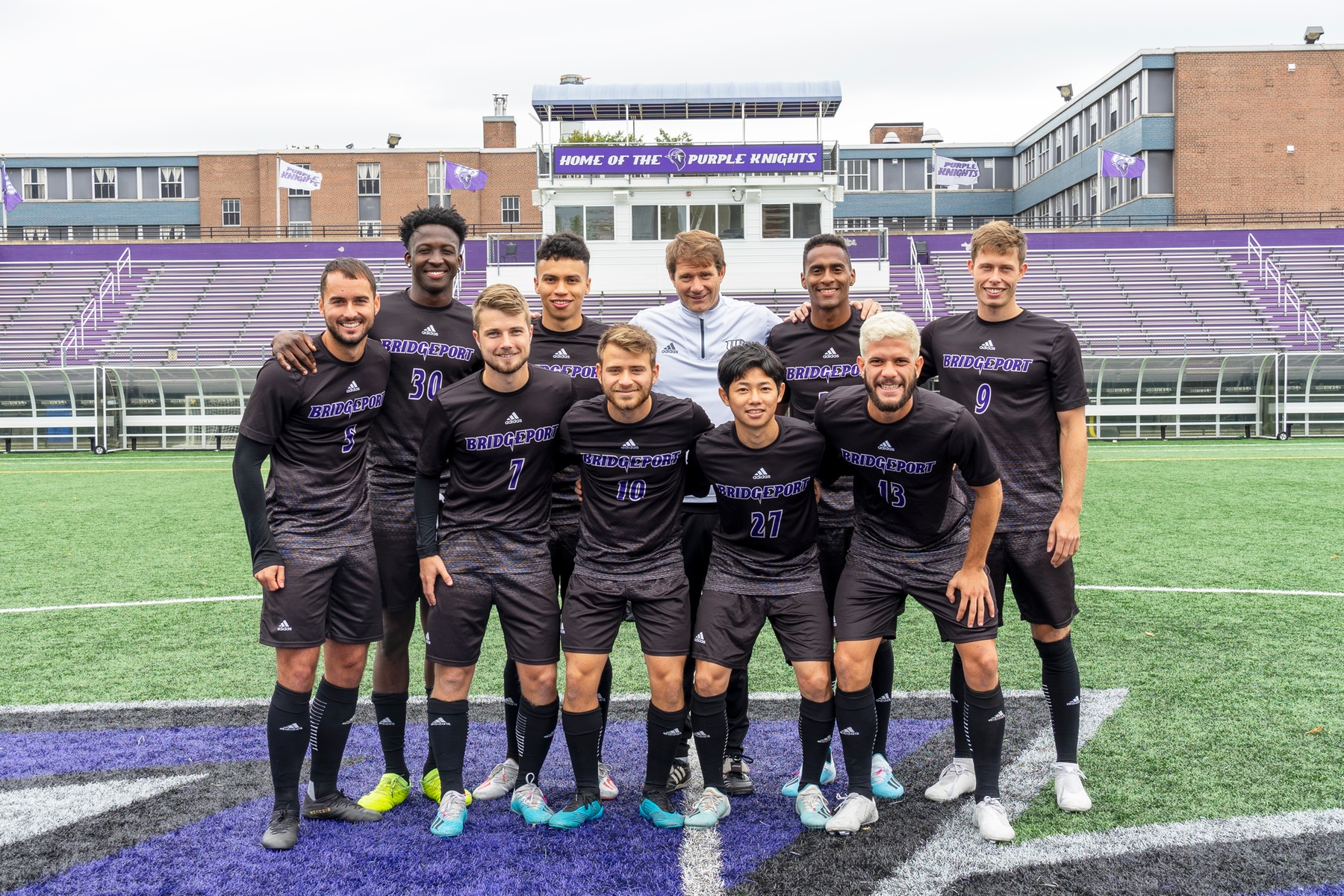 Bridgeport, Conn.-It was a five-star Saturday for the University of Bridgeport men's soccer team, as the Purple Knights locked up the number two seed in the upcoming 2019 East Coast Conference Championship Tournament with a resounding 5-0 home Senior Day victory over the visiting Roberts Wesleyan College Redhawks at Knights Field. The same two team will play each other again on Wednesday right back in the Park City in the East Coast Conference semifinals, and on the other side of the bracket, top-seed Mercy College will host Molloy College that same day. With Saturday's win, the Purple Knights close out the regular season at 10-5-1 overall and 5-2-1 in the ECC. RWC finishes its regular season at 9-7-1 and 5-3-0 in conference action.
The Purple Knights got on the board quickly on Saturday when senior Yoel Salvador (Bridgeport, Conn.) scored just 3:22 into play when he picked up a defensive turnover and fired home his fifth goal of 2019.
Bridgeport potted one more first marker, and that came at the 20:07 mark, when senior Leandro Avila (Panama City, Panama) converted a penalty kick for his first of two goals on the afternoon.
UB dominated the match outshooting the Redhawks, 21-4, and the hosts kept up the pressure in the second half scoring three goals.
Senior Nikolai Vadseth (Langevaag, Norway) put his team up 3-0 at the 53:30 mark off an assist from sophomore Oscar Facey (Trangsund, Sweden). Vadesth now has five goals this year.
Avila's second goal of the day and team-high, ninth of the season, came just of 11 minutes later off a lovely feed from junior Brian McGivern (Dublin, Ireland).
Sophomore Kamrock Tovar (Stratford, Conn.) wrapped up the scoring in the match with an unassisted tally, his first of the season, with just over four minutes to play.
Sophomore goalkeeper Carlos Tofern (Hamburg, Germany) made one save to earn his sixth clean sheet and eighth win of the season.